River Terrace Resort
Make Reservation Get Promotion Offer!
---
50% OFF SALE

LIMITED  INVENTORY  AVAILABLE 
PURCHASE   NOW  AND  TRAVEL  WITHIN  12  MONTHS
---
A Prime Location in the Beautiful Great Smoky Mountains
River Terrace Resort and Convention Center in Gatlinburg, Tennessee, offers guests comfortable accommodations in the heart of downtown Gatlinburg, all within minutes of Great Smoky Mountains National Park – the most-visited national park in the United States – as well as Dollywood theme park. With easy walking access to the main street in Gatlinburg and a multitude of outdoor recreational opportunities, your dream vacation is waiting at River Terrace Resort and Convention Center!
With its ideal location and variety of onsite amenities, River Terrace Resort boasts the perfect retreat for a Smoky Mountain getaway! Adjacent to Ripleys Aquarium and overlooking the Little Pigeon River, this lovely resort is just what the family will enjoy.
Relax and Unwind During Your Smokies Getaway
After a fun-filled day exploring area attractions, relax on your own private balcony and enjoy spectacular views of the beautiful Great Smoky Mountains or the scenic Little Pigeon River. Enjoy great, family-friendly dining at the onsite Drafts Sports Bar & Grill, which features a menu of creatively designed burgers, sandwiches and appetizers complemented by a wide variety of draft and bottled beers and a full cocktail menu. Onsite amenities at River Terrace Resort include two heated outdoor pools (seasonal). In addition, free WiFi is available for guests in the lobby, guestrooms and Drafts Sports Bar & Grill.
State-of-the-Art Indoor Water Park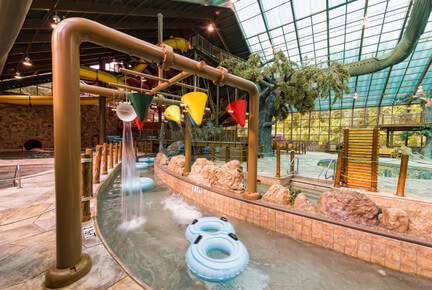 A short trolley ride from River Terrace Resort takes you to Wild Bear Falls, the ultimate indoor/outdoor water park, which encompasses 60,000 square feet of fun for all ages! Highlights of Wild Bear Falls include a state-of-the-art retractable roof, thrilling waterslides, a lazy river, zero-entry pool, toddler play area and treehouse play feature that dumps gallons of water periodically on guests below. Wild Bear Falls also boasts a snack bar and gift shop.
Why Stay Here
Perfectly Located With Smoky Mountain And River Views Alongside The Little Pigeon River and Adjacent to Ripley's Believe it or Not!
Includes 2 Wild Bear Falls Water Park Tickets With Trolley Service Is Available From River Terrace Resort
Come Relax & Unwind In 2 Outdoor Heated Pools
4 Days / 3 Nights In A Deluxe Queen Room
Includes 2 Tickets for Wild Bear Falls Water Park   Retail Resort Preview Rate SALES PRICE $99.00 LIMITED INVENTORY AVAILABLE!
Make Reservation Get Promotion Offer!
---
River Terrace Terms and Conditions
Congratulations! As a qualified participant, Westgate River Terrace would like to offer you the opportunity to enjoy this incredible offer of savings up to 75% off the retail price. This package promotion includes room accommodations only. Besides meeting the qualifications and attending the 90-minute resort preview, there are no other obligations. Primary Travelers must meet the Resort`s Qualifications below:
Group Travel
The resort is offering this first-time visitor promotion and will honor only one package per family, friends, acquaintances or known groups traveling on the same, similar and/or adjoining arrival and departure dates. Unfortunately, if you are traveling with others this package cannot be used for this trip, but you can save it for later. Otherwise, there are additional costs associated with group travel.
Credit Card
IF MARRIED OR COHABITATING COUPLE FROM USA or CANADA MUST HAVE VALID MAJOR CREDIT CARD OR DEBIT CARD TO CHECK IN.
IF MARRIED OR COHABITATING COUPLE FROM OUTSIDE THE USA or CANADA MUST HAVE A MAJOR CREDIT CARD TO BE ELIGIBLE AND ALLOWED TO CHECK IN.
PRE-PAID & RE-LOADABLE DEBIT CARDS DO NOT QUALIFY AND YOU WILL NOT BE ALLOWED TO CHECK IN.
Customer must have a valid credit card (in their name with an available line of credit to hold $100 resort security deposit upon check-in.
Presentation
Attendance to a 90-minute resort preview at Wild Bear Inn is required.
You are not eligible if you have previously attended a presentation at Wild Bear Inn.
Must tour with spouse/fiance/significant other/life partner if married/engaged/cohabitating.
Age
Married or Cohabitating couples only – both must be age 28 – 68.
If legally single woman must be age 30 – 68.
Income
If Married/Cohabitating Couple minimum $35,000 USD Annual Income.
Residents outside the USA & Canada must have minimum $50,000 Annual Income.
If legally single woman must have minimum $60,000 USD Annual Income.
Must not be in the process of bankruptcy. Must be employed full time – part time employment does not qualify.
Income excludes any income derived from self-employment, unemployment, alimony, child support, or temporary disability.
Language
Both qualified participants must be fluent in English without the help of an interpreter.
Identification
The qualified person must present a major credit card (Married or cohabitating couples from U.S.A. may present a debit or major credit card) and government-issued photo ID at the tour reception desk.
Married and cohabitating couples must bring with them proof of such (Government issued picture ID with matching addresses, and/or marriage certificate).
Marital Status
Offer is valid for US married or cohabitating couples.
All guests must attend the presentation, including all persons in the reservation(s).
If Married MUST Travel with Spouse or package is void.
Countries
Reservation holder must be a resident of the USA, Canada, Mexico, Panama, Philippines, and these Caribbean Islands: Anguilla, Bahamas, British Virgin Islands, Dominica, Guadeloupe, Martinique, St Vincent & the Grenadines, U.S. Virgin Islands, Antigua & Barbuda, Barbados, Cayman Islands, Dominican Republic, Montserrat, St. Kitts & Nevis, Trinidad & Tobago, Arba, Bermuda, Grenada, Jamaica, Netherlands Antilles, St. Lucia, Turks & Caicos Islands.
Residents of these Caribbean Islands: Puerto Rico, Haiti, and Cuba are NOT eligible.
Cannot live in Cocke County, Sevier County OR within a 60-mile radius of Gatlinburg.
Residents from states of Alaska, Hawaii, Maine, Iowa, California & Washington are NOT eligible for this promotion.
Confirmation Process
You will be receiving a formal confirmation delivered to your email within 3 to 7 business days depending on the season as the resort partner needs to verify and process your terms and conditions acknowledgment. The resort needs to verify each reservation as the resort is paying the cost of your discounted vacation.
Resort Fees
Customer will pay depending on season $5-$9 per night Resort Fee at check-in for use all resort amenities/housekeeping.
Additional Terms
Cannot live in Cocke County, Sevier County OR within a 60-mile radius.
For this first-time visitor promotion customer cannot be a travel agent, Westgate owner, employee or relative of an employee.
Participants that have attended any other resort preview in the past 12 months are not eligible for this promotion.
Cannot have toured a Westgate property more than twice. Cannot have consecutive promotional packages.
Promotional packages sold with tickets will receive tickets after the presentation.
The Online Vacation Center and Timeshare Presentation Deals holds no discretion over the eligibility requirements for participation in the resort preview. The eligibility requirements have been set forth by the resort developer. If The Online Vacation Center and Timeshare Presentation Deals believes that the eligibility requirements for participation are not being met, we reserve the right to cancel any reservation before the arrival date.
Rescheduling Policy
You are welcome to reschedule or make changes to your reservation without a penalty if change request is received at least 7 days prior to your scheduled arrival. Any changes made within 7 days of your scheduled arrival may incur a $100 dollar fee. You have 12 months to use your vacation package. All change requests are based solely on hotel room availability.
Welcome Aboard
Thank you for booking your vacation with us today. Your vacation package is now being pre-purchased from the participating resort in your name in order to provide you with this special of 77% OFF first-time visitor promotional price! This sale is FINAL & NON-REFUNDABLE unless you purchased Trip Guard. If Trip Guard was purchased, you may cancel up to 14 days before your scheduled arrival. If Trip Guard was declined, you will have a store credit to use your vacation dollars toward any hotel or resort of your choice within The Online Vacation Center and Timeshare Presentation Deals.